April 24, 2013
Updated Insteon Hub Back In Stock
The NEW and IMPROVED Insteon Hub is back in stock.  This new version has seen many improvements on all levels including DUAL BAND support now built in.  Dual band technology now allows the Hub to communication directly with both Powerline and RF devices, for excellent reliability in pretty much any environment.  Anyone can make their home a Smart Home without being a technical genius and with NO MONTHLY FEES and NO SETUP FEES.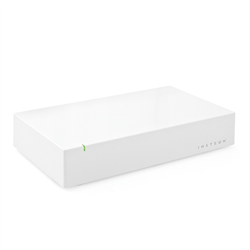 The Hub supports Insteon switches and modules, door/window sensors, water sensors, garage sensors, thermostats and even the new Insteon Smoke Bridge which lets it receive alerts from First Alert ONELINK smoke/CO detectors.  It also supports Insteon and some Foscam cameras for remote video.
Users can easily add devices, set up lighting scenes, create timed events, and email/SMS alerts, all from an iPhone or Android phone with simple video guided tutorials right on the phone.  Email/SMS alerts are a great way to receive alerts in case of door, window, cupboard openings, water/flood detection, smoke/CO alerts and more!